Milk Maker Tofu Set
The ideal set for you to make tofu as well!
For over 5000 years soybeans have been well known in China and Japan, because of their high nutritional value and referred to at times as the "miracle bean".
Soy has cholesterol lowering and cancer fighting properties in addition; it helps to prevent osteoporosis and eases the symptoms of menopause, thus gaining popularity in the western world.

Here you will easily learn how to add the miracle bean to your diet every day by using the soymilk machine. The soymilk machine make healthy, fresh, organic milk including soymilk, rice milk, almond milk, oat milk, nut milk and tofu in the kitchen.
Soya Milk Maker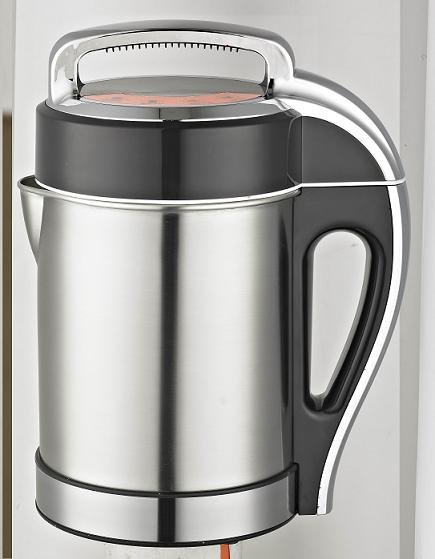 £99.88
Soya Milk Maker is the elegantly easy way to make fresh soya milk and a variety of other delicious like nutritious rice milk, various nut milks, okara dishes and fresh tofu. Simply add soya beans and water to the Soya Milk Maker and you get fresh soya milk in about 20 minutes. Ease of use and ease of cleaning:
The soy milk making process, including grinding, boiling, and filtering, is automatically controlled by a microprocessor. As a result, they are very easy to use. Basically, all you need to do is add presoaked - anywhere from 6 hours to 16 hours is fine or dry soybeans, plug in the power cord, and press the START button.
Below are step-by-step instructions on how to make soy milk.
1. Using the measuring cup provided, measure one level cup of dry soya beans (100g / 3.5 ounces).
2. In a large bowl, cover beans with 2-3 inches of water and soak 8-10 hours at room temperature. Soaking overnight is most convenient. After soaking, be sure to rinse your soyabeans thoroughly.
3. Place all the soaked soya beans directly in and fill water up to the maximum water fill level.

4. Press only the START button. The appliance will automatically start the cycle. Their process takes 15-20 minutes. Multiple audio beeps with a flashing power light indicate the cycle is completed.
How Do You Make Tofu?
To make tofu, you need a fresh batch of soymilk from your Soymilk Maker, tofu coagulator, and our easy-to-use tofu press. The coagulator will separate the soymilk into curds and then you pour into the tofu press. The press allows the water to drain off and forms the tofu into a block. One batch of fresh soymilk makes approximately 7 - 14 oz (195-395 grams) of great tasting tofu. However, the size and firmness of your tofu is determined by how much water you press out and how long you leave the tofu "set" in the press. You can even make your own flavored tofu and tofu dessert, or add your favorite herbs to make delicious herb tofu. Simply add the desired ingredient as an extract or powder to the soymilk before adding the coagulant.
Make Soft and Hard Tofu
Below are step-by-step instructions on how to make tofu from soy milk.

1. The soymilk needs to be near boiling hot when adding coagulant .Stir in one package of Tofu coagulator or 1 ½ to 2 teaspoons of Nigari or Gypsum (adjust amount of each for desired firmness)
2. Cover pot and let stand for 20 minutes. Soymilk will separate into large curds and whey.
3. Center cheesecloth over into Tofu press and use a colander transfer the curds and whey into the Tofu press.
4. Fold remaining sides of cheesecloth on top of Tofu. For soft tofu, let stand in the tofu press with a weight on top (A pot or jar of water can serve as the weight of 3 - 5 pounds is placed) for 15-20 minutes in the press. For firm tofu, let stand in the tofu press with a weight on top for 1 hour.
5. The more the tofu is pressed, the firmer the tofu will be. Store the tofu in the refrigerator for up to 7 days. Cover the tofu with fresh cool water and change the soaking water daily. You can eat the fresh tofu while it is still warm. Freshly made warm tofu tastes so much better than the store-bought stuff! One batch of soymilk makes approximately 7-14 ounces (195-395 grams) of great tasting Tofu, depending on how much you press it.
Nigari (very difficult to find them in retail stores.)
Tofu Coagulator (Organic)
Buy 50 for £14.99

Magnesium chloride (nigari) and natural calcium sulfate (gypsum) are the most common tofu coagulants used. They have been used for hundreds years in Japan and China. Nigari is composed mainly of magnesium chloride, but also contains other minerals found in seawater, with the exception of sodium chloride (sea salt).
For tofu - use ½ to 1 teaspoon per 1000 to 1500 ml of fresh soyamilk (adjust amount for desired firmness). Magnesium chloride is on the National Organic Standards Board's list of accepted ingredients for organic certification.
Our coagulant is the food grade mineral in a powdered form and is manufactured expressly for the purpose of making tofu. It is conveniently pre-packaged in single use packets so that air, moisture, and light are kept out to ensure shelf life.
Store all coagulators at room temperature in sealed containers. Stored properly, they have a shelf life of 1½ to 2 years.
Organic GM-Free Soya Beans-- can be found in most natural food stores, most Asian groceries stores, and some supermarkets or you can buy from us.
5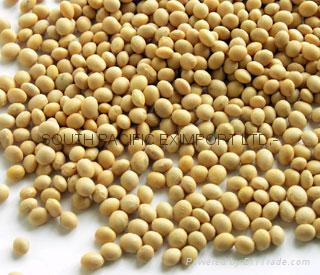 500g

£3.99

5kg

£16.50


Homemade Tofu Maker

Each Tofu Press contains:
A high quality 2 piece press (5 x 4.25 x 3.5 inches)

A large piece of cotton muslin

10 packets of tofu coagulator
The tofu press is made from durable plastic with rounded corners. Customers like this design as it greatly assists in forming the block of tofu and it is very easy to clean - just rinse and let it dry.

£13.88
Place your orders by email or mail.

40 Alcester Road, Stratford-upon-avon, Warwickshire, CV37 9DB, UK
Email: info@moonrakerhouse.com